Bondarenko Nina Petrovna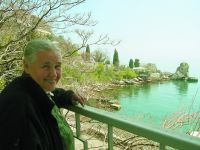 Born 1941 Kiev.
1956-1961. Studied at the Kiev school of applied art, department of textile art. Teacher: I.Sebibet, V.Sadov , N. Vovk, P. Glushchenko, NE.Svyatsky, N. Tanyshev, S. Kolos.
In 1963, the constant participant of republican, all-union and international exhibitions.
From 1991. Constantly works in the technique of oil painting.
<< back