Smiyan Susanna Konstantinovna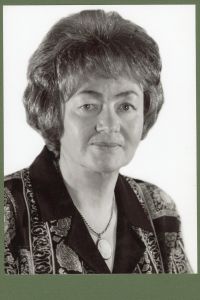 Works in the field of art glass.
A member of the National Union of Artists of Ukraine since 1983/
Honoured Artist of Ukraine since 1991.
Born: 1940, Novgorod-Siverskyi (Chernihiv region), Ukraine.
Education:
1960 – I. Trush Lviv Applied Art College, studio pottery department.
1966 – Lviv State Applied and Decorative Arts Institute, art glass department.
1970 – post-graduate course at V. Muhina Leningrad Higher Artistic-industrial College, Russia. Art glass department.
Exhibitions:
since 1960 – exhibited at more than 150 republican, former Soviet Union, Pan-Ukrainian and international art exhibitions.
Her main works: theme composition cycle "Space", "Peace to the Earth planet", sets "Golden autumn", "Peacocks", vases "Tenderness", "Poses", composition "Lilac". Her works are in museums of Ukraine.
<< back