Titulenko Pavlo Volodumurovuch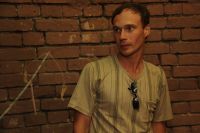 Was born 29.09.1973 in Kiev in a family of painters.
1984–1991 – studied in Taras Shevchenko Republic Painter School in Kiev.
1992–1998 – studied in the Ukrainian Academy of Arts in the Faculty of the Book Graphics, by the adviser of Prof. Chebanuk V.Ja.
Now work in a sphere of the book and composition graphics, as well as in oil painting. The genres are landscapes, portraits, still-life.
Participated in 10 Ukrainian expositions and 1 personal exposition (in 2006).
Is a member of the Ukrainian National Union of Painters (from 2008).
<< back