Antonova Yana Victorievna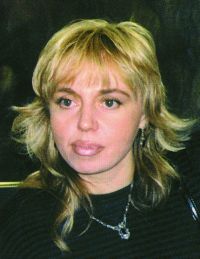 Was born 17.08.1962 Kiev.
She Graduated from the Kyiv State Art Institute (the Ukrainian Academy of arts) in 1987. With 1992. Member of the union of artists of Ukraine.
Picturesque works Yana Antonova are in the galleries of Ukraine, Russia, usa, private collections in France, Sweden, Germany, Italy. She is the participant of many international, all-union, republican, regional and other exhibitions. Antonova Yana with his force of personality picturesque style embodies inherent in the combination of realistic elements of the image with the image - the concept of a symbolic picture with a fine sense of picturesque - plastic expressiveness. Work Antonova Yana not once were demonstrated in the press, on tv channels of author's programs.
Took part in exhibitions since 1991.
1991. The center of the eastern - european art "Gallery 22" (Malmo, Sweden)
1992. IMP.EX.s.r.l Sah Giueiano MSE Milano - Italy
1995. Personal exhibition on the territory of Lavra
1998. Gallery of arts "Aquarelle"
1998. All-Ukrainian триэнале "Painting" of 1998.
1999. Gallery "Aquarelle"
2000. Christmas auction, gallery "Mistets"
2000. Personal exhibition in Central House of Artists (CHA)
2001. International forum "Еvroidne - 2008"
2002. The Ukrainian fund, the exhibition of painting "Poetry of paints"
2003. All-Ukrainian "
2005. Exhibition of all Ukrainian painting and sculpture, dedicated to the Day of memory of the 90th anniversary of the Armenian genocide.
2008. Exhibition of painting gallery "Parentsa"
<< back