Goncharenko Jury Evgenevich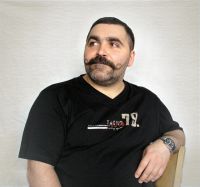 Born July 5, 1964 in Kiev.
1975 - 1982 - Learning in the Republican School of Art. TG Shevchenko. Lecturers: S. Bondarenko, Nechiporenko MS, Shevchenko NN
1982 - 1990 - studied at the Kiev State Art Institute. Graduated from the workshop of monumental art. Teachers: Yatchenko N., Chekanyuk VA, Storozhenko MA
Since 1990 - teacher of drawing, painting and composition at the State art school. TG Shevchenko.
1990 - Member of the National Union of Artists of Ukraine.
From 2002 - 2006 - The deputy headmaster of professional disciplines.
Works in the field of monumental, easel paintings and graphics.
Works purchased by the Ministry of Culture of Ukraine, and galleries are in Poland, Germany and private collections in USA, France, the Netherlands.
<< back