Kolisnyk Prokip Mikhaylovich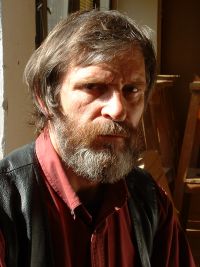 Born in 1957, on July the 16th in Potashnia, region of Vinnyca, Ukraine.
In 1976 (years of study: 1972 –1976) graduated from State of Art School in Odesa, specialization: teaching of protraction and painting. Academic painter, the meritorious artist of Ukraine.
He is a member of The Union of Artists of Ukraine (since 1988), The Association of Ukrainian Writers (since 2001), Slovak Art Union (since 1991), Society of Ukrainian Writers in Slovakia (since 2002).
The member of the art society Czarunka (since 2004).

In 1987 (years of study: 1981 – 1987, professors: V. I. Zabashta, O. M. Lopuchov) with distinction and the Gold Medal of the Academy of the Art graduated from Kiev State Institute of Art (now National Academy of the Art and Architecture), specialization: painting, qualification: artist-painter and pedagogue. In 1995 he took part in Summer Academy of Art in Salzburg, Austria. He attended other artistic and scientific actions – open air, symposiums, conferences, projects... (Ukraine, Austria, Bohemia, Slovakia). Since 1999 works at Department of Art, University of Prešovna. He teaches painting.
Since 1976 he is taking part in national, international, collective and group exhibitions. He had thirtyseven individual exhibitions: The National Museum of Art, Kiev, Ukraine; The National Museum in Lvov, Ukraine; The Gallery of Union of Artists, Czernivci, Ukraine; The Museum of Ukrainian Culture, Svidnik, Slovakia; ARPEX Gallery, Bratislava, Slovakia; VIC Art Club, UNO City, Vienna, Austria; The Slovak State Philharmonic in Kosice; The Museum of Modern Art of A.Warhol in Medzilaborce, Slovakia; The KromerizMuseum, Kromeriz,Bohemia; The Gallery of the Orthodox Dome of St. Cyril and Metod, Prague, Bohemia; The Museum of Homeland Study in Presov, Slovakia; University Library of Prešov University in Presov, Slovakia; The National Museum of Taras Shevczenko in Kiev, Ukraine; The Gallery of Prokip Kolisnyk in Potashnia, Ukraine…
The author of original artworks (paintings, drawings, graphics, relief). The artworks are placed in museums and collections of Ukraine, Slovakia, Bohemia, Poland, Belarus, Russia, Austria, Romania, Israel, Canada, USA, Germany, France, Hungary, Switzerland.
<< back