Pylypenko Ivan Yakovich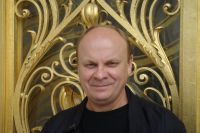 Born 9.III.1957 with. Schasnivka Chernihiv region.
Artist-painter. Honored Artist of Ukraine (2006), winner of Art Prize "Kyiv" them. Sergei Shishka (2008). He graduated from the Kyiv Art-Industrial College in 1978, a private art school V.Zaretskoho in 1982. In 1982-1988 he studied at the Kiev State Art Institute (Mural Painting M. Storozhenko and V.Chekanyuka).
In 1992 - trained at art college town. Cheltonhem (UK), 1994-1997 - in the workshops assistantship at the Ukrainian Academy of Fine Arts and Architecture (with prof. Storozhenka MA) 1994 - present - Associate Professor of Painting Workshops Temple and culture of the National Academy Fine Arts and Architecture (Head - Acad. Sci. Storozhenko)
Works in easel and monumental painting.
Philosophical thinking, desire harmony in the works, spirituality filling composition and color Skill distinguish canvases, make him recognizable individual painting style.
Works: "Wisdom of the Temple" (1996-1998), "Taste bezsliv'ya" (1999), "snowy Laura" (2001), "Holiday Dream" (2005), "Lavra silence" (2006), "The Secret" (2007), "Venice" (2007), "Spring in the garden Lavra" (2008) series "Paris White" (2009), "Angel" (2010), a series of "Venice" (2011-2013).
Teaching and creative work fruitfully combined with the public. During 1993-2007 cared Youth Association of Kyiv National Union of Artists of Ukraine, and in 2007 became head of its section of painting.
Participant in national and international exhibitions.
Works of the artist are in the collections of national museums and private collections in Ukraine and the world.
<< back