Samokhina Nadiya Volodymyrivna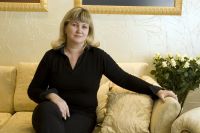 Born in Kyiv in the family of an artist and an architecture. She graduatedfrom Republican Artistic School in 1987. In 1993 she graduated from Ukrainian Academy of Arts (Painting Class/ Professor V.G.Pusyrkov's Studio). She is the member of the Union of Artists of Ukraine since 1994. She lives and works in Kyiv.
Being a participant of international and all-Ukrainian exhibitions and actions, her works are exhibited in the galleries and different collections in Italy, Ukraine, Germany, France and the USA.
She works in a realistic manner, using oil painting technique, in landscape, portrait, still life genre, continuing Ukrainian academic school traditions of painting. She often uses postimpressionism motives in her works, all of which are filled with lyrical emotions, feelings, ethereality, expressed in sensitive colour gamut. They are painted airily, in a trace and are very popular with the modern spectator.
<< back