Sochenko Marina Petrovna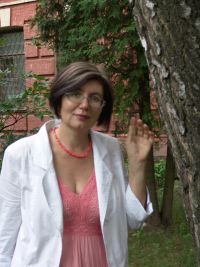 Was born December 22, 1963 in Kiev.
1982 graduated from Republican Art School im. Shevchenko then improved skills in the private studio of Victor Zaretsky.
1989 graduated from Kyiv State Art Institute (now Naomi) and defended a diploma called "wedding bread"
1992 - Member of the Union of Artists.
1993 - first exhibition at the Museum P. Tyczyn.
1993-1997rr. - Studied in graduate mystetstv.Zvituvala Academy exhibition and undergraduate work "Peace, clear, peace, quiet ...". Zahystylasya the title of master.
1995 - second personal exhibition entitled "On the white canvas of my soul." (Taras Shevchenko museum).
Since 1998 lecturer in painting Naomi.
2000-personal exhibition in the Kiev House of Scientists in the medical library in central scientific library. Bibliography.
2001 - Solo exhibition in the U.S.: in Providence (the state of Connecticut) and New York.
2003-solo exhibition at the National Academy of Arts.
2007-solo exhibition at the Museum of books and printing in the Monastery, called "Easy brush my soul ...."
<< back