Tytenko Panas Mikhaylovich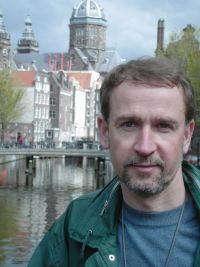 Born in Kiev on February 18, 1963.
He graduated from the National Academy of Fine Arts and Architecture.
He is a member of the National Union of Artists of Ukraine.
Since 1986 participates in All-Ukrainian exhibitions.
Since 1995 his paintings are exhibited abroad at "Bonhams" and "John Nicolson" British auctions, as well as in 1998 in "Roy Miles Gallery" in London and in "Hanover Fine Arts" in Edinburgh.
Personal exhibitions:
In 2009
"Year of Travel" Gallery of Modern Art "Charm", Kyiv.
In 2008
"The Art. Panas Titenko " NUAU, Kyiv.
In 2005
"The Art. Panas Titenko" Gallery of Modern Art "Charm".
"The Art. Panas Titenko" the Central House of Artists, NUAU, Kyiv.
In 2004
"Hanover Fine Arts" gallery exhibition, Edinburgh.
In 2002
"Tweedale Museum", UK.
"Menier Gallery", London.
"Hanover Fine Arts Gallery", Edinburgh.
In 2001
"Hanover Fine Arts Gallery", Edinburgh.
Major exhibitions:
In 2010
Private Collection of Ukrainian Art, The Chambers Gallery, London
Tytenko & his family at 20-21 International Art Fair, The Royal College of Art, Kensington Gore, London
"Impressionism & Realism from Ukraine", Art Amatoria Gallery, Edinburgh
In 2009
"Christmas" NUAU, Kyiv.
"The Art exhibition of the 40th anniversary of Kiev organization" NUAU, Kyiv.
"Impressionnism Ukrainien" the Cultural Center of the Embassy of Ukraine in Paris.
In 2007
"All-Ukrainian Triennal of Painting" NUAU, Kyiv.
"Born in the USSR" exhibition, Art Gallery, London.
In 2006
The participation in art-project "Maestoso Como" the Municipal Museum "The sacred treasures of Ukraine", Kyiv.
"Born in the USSR" Phonics Gallery, Edinburgh.
In 2003
"The international fair of art in the 19th, 20th and 21 century", Belgium.
In 1999
"Impressionism and art of realism of Ukraine" University of Hertfordshire, UK.
<< back