Zorko Anatoly Egorovich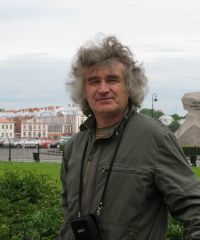 born in 1956.
In 1976 he graduated from Kyiv civil engineering (specialty architecture).
In 1991 graduated from the Kyiv state art Institute (workshop of easel painting of the academician And. Lopukhova) on the specialty of painting.
From 1992 - member of the National Union of artists of Ukraine.
1995 - graduated from post-graduate course of the internship of the Ukrainian Academy of fine arts and architecture with a degree in painting. (head academician Golembievskaya the so-CALLED.)
Associate Professor of the chair of painting in the National Academy of fine arts and architecture..
Honored artist of Ukraine (2004).
Laureate of the art prize "Kiev" in field of fine art. Sergei Shishko (2004).
2005-Diploma of the Verkhovna Rada of Ukraine. For merits before the Ukrainian people.
2007-Awarded with the Silver medal of the Academy of arts of Ukraine.
2007-the Reward "of the Ministry of culture and tourism of Ukraine. For achievements in the development of culture and the arts".
The participant of 8 personal exhibitions in Ukraine and abroad; more than 22 group exhibitions, among which national and international.
<< back