Fedyk Zenoviy Grygorovych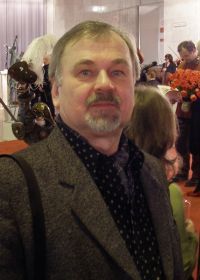 Born on April 20,1949 in Lviv region. He completed Ivano-Frankivsk
specialized art scool, section of woodcarving and graduated from the
Lviv Academy of Arts. His teachers of sculpture: Valentyn Borysenko,
Dmytro Krvavych, Emmanuil Mys'ko.
He is a member of the Ukrainian National Society of Artists.
He is an assistant professor of the National Academy of Fine Arts and
Architecture.
He exhibits his works since 1977. Accomplece of more then 50 exebitions of Ukraine ang 3 symposiums.
His works are kept in museums in Ukraine and in private
collections in Canada, Germany, Belgium, USA.
He lives and works in Kyiv.
<< back