Korvach Andriy Bogdanovich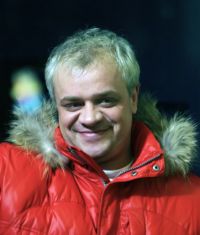 Was born on February 12, 1973 in Kalush, the Hutsul region of Ukraine, Ivano-Frankivsk Oblast.
In 1991, upon graduation from school with honors, Andriy successfully passed the entrance exams for the National Academy of Fine Art of Ukraine (NAFAU), Department of Sculpture. His teacher was People's Artist of Ukraine Ivan Vasylyovych Makahon, a well-known author of the grave monument to the first President of Ukraine Mykhaylo Hrushevsky.
During his studies at the NAFAU Andriy Korvach created a great number of ceramics and bronze statues, which were successfully displayed in Kyiv and "Art Expo-95" Exhibition in Budapest (Hungary). Towards the end of his studies he created a monumental work of art titled "Fate" dedicated to the first emigrants from Western Ukraine to Canada.
In 1997 Andriy Korvach joined the National Union of Artists of Ukraine. In the same year he became a post-graduate student at the NAFAU, where he studied under the guidance of a famous Ukrainian artist Vasyl Zaharovych Boroday, who is known as author of "To the Founders of Kyiv" monument, a large portrait of Taras Shevchenko in Hyde Park in London, and the monument to Lesia Ukrainka in Kyiv.
The appearance of a bronze Baroque style artwork titled "The Dniester" marked the successful completion of Andriy Korvach's post-graduate studies. For this work the NAFAU conferred a title of "Master of Sculpture" on Andriy Korvach.
Sculptor Andriy Korvach has created over 300 ceramics, bronze, marble artworks, which are exhibited in Ukraine and USA and kept in the private collections in Great Britain, Belgium, New Zealand, Canada, Israel, Latvia, and Germany. Some of them are also on display at the Presidential Administration of Ukraine and the Ministry of Culture of Ukraine.
Andriy Korvach currently lives and works in Kyiv, Ukraine.
<< back